Thomas Mackay - Mallet Percussion, Effect pedals. live looping

Thomas Mackay
"Thomas owes an obvious debt to the great Bobby Hutcherson. With a clear tone, strong chops and good ideas, he is also reminiscent of modern vibes masters Bryan Carrott and Joe Locke. A fine debut from a fellow Oregonian." -  Rob Scheps, NYC Jazz icon, independent review of "Jackson" (May 15, 2013)
Mackay has mentored under Mike Blake, Gordon Stout and Bill Molenhof.  He studied jazz and classical percussion at The Birch Creek Music Academy, The University of North Dakota, and Casper College. He has performance experience in many genres, from sharing the stage as a mallet percussionist with jazz artists such as Clark Terry, David Valdez, and Rob Scheps, to the psychedelic genre of Martin Fierro (Grateful Dead and Quicksilver Messenger Service), Terry Haggerty (Sons of Champlin), Merle Saunders (Jerry Garcia Band) as well as the world-renowned Portland, Oregon based, 3 Leg Torso.
Thomas formed "The Mackay Project" an ensemble that features his original compositions and focuses on the modern side of jazz. The Mackay Project leans more towards groove-oriented tunes (break-beat, hip hop, reggae as well as straight ahead jazz). In June of 2013, Mackay released the first CD featuring The Mackay Project titled "Jackson", under the Hammondbeat Records label. During the recording of Jackson, there were two weeks of studio down time which was used to record yet another CD of jazz standards. "Here's That Rainy Day" was released under the Hammondbeat Records label in the fall of 2013.  In 2014, Hammondbeat Records released Mackay's third CD titled "Jourvet'", which features Caribbean jazz selections.  In 2014, Mackay formed "Vibra Cubana!" while residing in Oregon.  Vibra Cubana! focuses on the music of Cal Tjader. 
Augie Lopaka Colon Jr. - World Percussion, exotic birdcalls, electronic percussion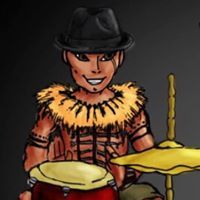 Augie Lopaka Colon Jr.

Born to the "Sophisticated Savage", Augie Colón Sr. (original member of the Exotic sounds of Martin Denny), Augie Borero "Lopaka" Colón Jr. has followed in his fathers' footsteps and is taking those steps forward to the next generation. Lopaka Colón graduated from Moloka'i High School in 1992 with a scholarship to attend the University of Hawaii (U.H.) @ Manoa. He attended U.H. for 6 years majoring in Ethnomusicology with a minor in Spanish language. While in the U.H. Music program, Lopaka performed with the U.H. marching band, Symphonic and Jazz ensembles. He also played Afro-Cuban rhythms off and on campus in a Percussion group named "Campus Drummers" headed by Robert "Sango" Russell. As a student, Lopaka integrated the teachings of his father, private Afro-Cuban/Classical percussion lessons, and U.H. schooling into his own unique style.
Lopaka Colón is an established percussionist and multi "Na Hoku Hanohano" award winner (Hawaii's version of the Grammy's). In the late 90's, Lopaka found musical success in a band named "Pure Heart", rated in the top 50 musical groups of all time of Hawaii and one of Hawaii's youngest musical groups ever to take the local music scene by storm in such a short period. The group later evolved into Colón (in honor of Lopaka's father-Augie Colón). Both bands won the "People's Choice" award at the Hoku's as favorite Entertainers of the year for 2 years in a row. He has collaborated with majority of Hawaii's top-notch musicians either doing studio work, live performances, or just having fun "Kanikapila" (musical jam). Currently he is a key component in the success of several local bands like the Grammy-nominated "Wild Hawaiian" project with the Henry Kapono band, the Barefoot Natives (uncle Willie K. & Eric Gilliom), living legends-C&K, the Makana trio (slack-key/world-fusion), the Waitiki 7 (Classic Exotica for modern listeners), and Don Tiki (Las Vegas type of an Exotica show band) to name a few. Lopaka has also collaborated with Michael McDonald and Rock-n-Roll hall of fame drummer-Mick Fleetwood and his "Island Rumours" Band performing for corporate clients.
Most recently, Lopaka has played a key role in a non-profit group, The Mana Maoli Collective. This collective group supports the education of native Hawaiian children in Hawaiian charter schools via benefit concerts, CD sales, cultural events and workshops. This group also represents Hawaii in the largest Polynesian festival focused on the cultural art forms of Polynesia in New Zealand called The Pasifika.
Ernie Provencher - electric upright bass, Uke Bass, Effects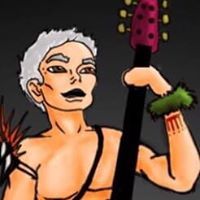 Ernie Provencher

Ernie Provencher is a versatile and accomplished bassist who has played as a freelance performer while living in Boston, N.Y.C., Helsinki, Santa Cruz, CA., Hong Kong, and Honolulu. Ernie has played for recordings, Broadway shows, and live appearances worldwide. He has written numerous compositions for modern dance and has been on the staff at the Theater Academy of Finland and the Hong Kong Academy for the Performing Arts. In addition to performing, Ernie is active in music education in Honolulu including as the band teacher at Hanahau'oli School, a string teacher at Honolulu Waldorf School, a lecturer in Music in The Theater and Dance Dept. at U.H. Manoa, and private students. Ernie has played with Michael Franks, Eartha Kitt, Joanne Brackeen, Curtis Fuller, Chico Freeman, George Gruntz, Mick Taylor, Dan Hartman, Georgie Fame, and many others. In Honolulu he has played with Jeff Peterson, Bill Tapia, Mihana Souza, Makana, Gabe Baltazar, Del Beazley, The Hot Club of Hulaville, Ginai and Pierre Grill, and the Balkan fusion band, Partners in Time. Ernie received a Master of Music in Double Bass Performance from the University of Hawaii at Manoa.